Since 1986, Nu-Cast has focused on becoming the most comprehensive solution for precision aluminum investment casting.
Today, customers around the world trust castings from Nu-Cast to perform when they need them the most.
Customers like NASA, Gulfstream, numerous military contractors, and industries of every kind rely on Nu-Cast. They rely on our equipment and technology, but more importantly they rely on our engineers and specialists to understand the problem and to have the capabilities to design, manufacture, and finish the most intuitive solution for applications everywhere.
Certifications and Approvals
---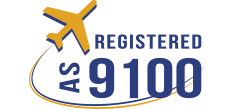 At Nu-Cast, we work hard to maintain a quality standard suited for mission critical applications everywhere. With compliance with the AS 9100D standard and a longstanding NADCAP rating, our quality standards and certifications offer our customers unprecedented peace of mind for even the most advanced projects.
We take pride in the fact that many of our investment castings function in applications that actively support our military and research institutions as they make us safer and push the boundaries of technology. In the past, Nu-Cast has had the opportunity to lend our ingenuity to investment casting projects for components ranging from rifle housings and optics to parts in the international space station, NASA space shuttles, the Mars Rover, and high performance race cars.
Tell us about Your Investment Casting Needs
Do you need an investment casting for a new or high-precision application? Get in touch with our engineers today to discuss your specifications and how we might be able to provide the solution you need.