Nu-Cast regularly provides aluminum prototype castings carefully produced to simulate your potential end-product. With the alloys you need and unbeatable experience engineering and casting prototypes, our engineers are best prepared to be your source for prototype castings.
The Benefit of Nu-Cast
From Rapid Prototype to Full-Production Casting
Using state-of-the-art resin patterns, our engineers can quickly create complex patterns to efficiently and effectively test and visualize numerous iterations of your product or component design. By generating the pattern for your rapid prototype from a CAD file, our engineers eliminate the need to produce a hard tool for your prototype. This produces a near-net shape ( including embossments, and other fine details) while keeping costs down and lead-times short without sacrificing precision or quality. Once your prototype pattern is produced, castings are made to yield a precise prototype of your potential part or component.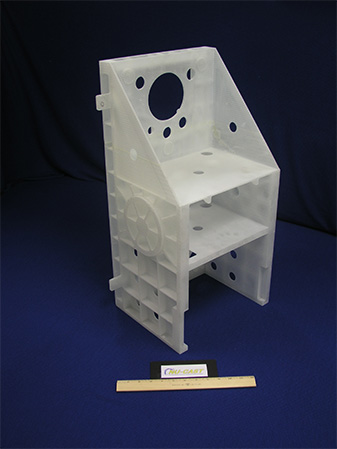 The Peace of Mind You Want
With all the pieces you need.
Save more on aluminum castings with prototype casting that reduces the need for extensive tooling and finishing.
Save on Future Tooling
Customers in markets ranging from the military to the medical device industry kickstart their product or component's lifecycle while maximizing efficiency with rapid prototyping that's fast and incredibly precise with service to match.
Build a Better Product
By increasing efficiency and identifying potential areas for improvement early on, rapid prototyping has been proven to drastically reduce production costs and delays.
Prototype Aluminum Castings
---
Our Range of Rapid-Prototyping Capibilities Features:
Stereolithography (SLA)
Produces models from epoxy resin via a UV laser,
directly from CAD data file.
Quickcast 3D Systems
Helps achieve greater accuracy
Capable of high detail and thin walls
Good surface finish
Investment Castings
Takes less time than other prototyping methods
A cost effective method of producing multiple prototypes
Receive prototypes in up to 3 weeks
Small, Large, Simple & Complex
Extensive prototyping experience for land, air, and sea
Larger castings to 50"
Castings as small as ½"