CAD to casting in 3 weeks? It was not too long ago that if you asked an aluminum investment casting foundry to make a casting for you in as little as 2.5 weeks, the answer would have been an unequivocal, "no."
Not anymore. Nu-Cast has survived, grown and thrived as a company because we have made a commitment to listening to our customers and responding to the changing landscape of their needs. We understand that we live in a world of high expectations where technological innovation has made "faster and more cost effective" a way of life. Nu-Cast has adapted, invested in people and machinery, and we can honestly answer the question today in the affirmative. We absolutely can and do, go from CAD to casting in 3 weeks.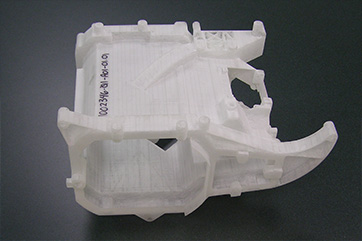 To make an aluminum investment casting from a hard tool can take a few months and, depending on your perspective, can be a little bit costly. However, we understand the stresses our customers experience every day to remain competitive. Very often, the difference between out-performing competitors and losing a very profitable piece of business could be a simple matter of being able to launch your product just a few days before they can.
If you have the need to create a casting for testing or for one-time-use purposes, and turn-around time can be the difference between success and failure, we urge you to give us a call and speak to one of our talented and motivated technicians. Working in close cooperation with you, Nu-Cast can utilize our resin-based Rapid Prototype Casting process and walk the job through the plant in a very personalized manner. Without a hard tool to be concerned about, and taking the extra steps of moving people and work around in a creative manner, we can accommodate orders that are very time sensitive and go from CAD to casting in 3 weeks or less.